Cabal
From AmtWiki
"Hey Bro!"

Cabal at Spring War IV, pic by Squeak!
Biography
So this guy wanders over to the gate, and chats up the gate guard nonchalantly. He's wearing a T-shirt and jeans, and is really laid-back. All of a sudden, he completely interrupts his conversation and turns towards me brightly and offers his hand, "Hi! I'm Dave." Introductions are made, he asks if I'm having fun, then finishes his chat and takes back off into the darkness.
The next night I see "Dave" sitting on the throne being referred to as King Cabal. Since that day, I've always aspired to be more like Dave. -Brigade
Originally of the Emerald Hills, Sir Cabal has spent loads of time contributing to both EH and the Wetlands in the past 2 decades. He started playing at Iron Cloud and quickly became a firgurehead of the Emerald Hills. Later Cabal continued his work as a resident of the Wetlands for most of the 90's, but has since moved back to the Emerald Hills. Known mostly for his contributions to the Bardic both in competitions and at the campfire.
Affiliated Groups
Founder of the Nighthawks
Houshold: La Cosa Nostra

Current Squires
1. Squire White Tiger
2. Squire Rolin S. Phlogiston

Former Squires - Sir Boots, Sir Infinity, Sir Slyddur, and Sir Katahztrofi
1. Sir Boots - Sword, Serpent, Crown, Flame
3.Sir Slyddur Rahbet- Flame, Crown
4. Sir Katahztrofi Blackheart- Knight of the Crown
Notable Accomplishments
Knight of the Serpent (1992) and Knight of the Crown (1995)of the Emerald Hills.
Additional Images
Link to image 1
Link to image 2
More Information
Personal Website
Company Website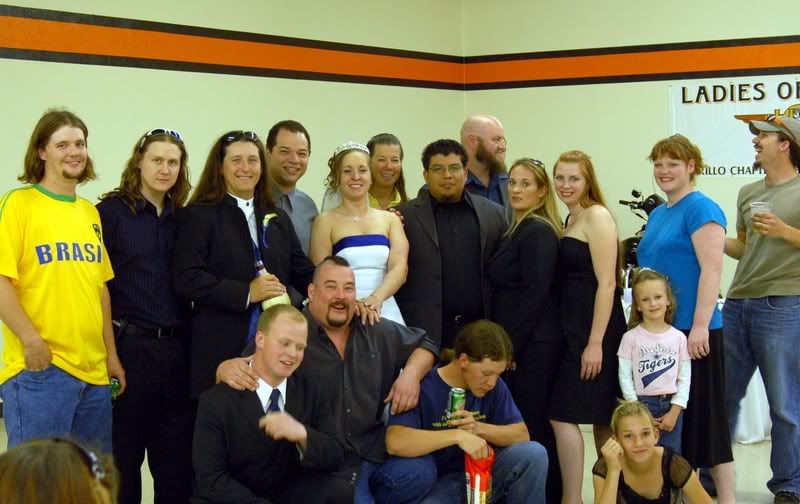 Seen here between Warblade and Katahztrofi at their wedding.
From left to right; Shef, Warblade, Cabal, Katahztrofi,Kane, Slyddur, Boots, Ashe, Page SKIT, Antininus, Axgar, Wran Wrap
More of Cabal's Beltline
Back: Squire Ant, Squire White Tiger, Sir Slyddur, Squire Katahztrofi, Sir Warblade
Middle: Squire Maeve, Sir Kane
Front: Squire Wran Wrap, Squire Brigade
Squire Katahztrofi, Sir Infinity,Sir Slyddur, Squire Backstab, Sir Kane, Sir Boots, Sir Warblade, Squire Tiger, Squire Stormie
---