Calidran
From AmtWiki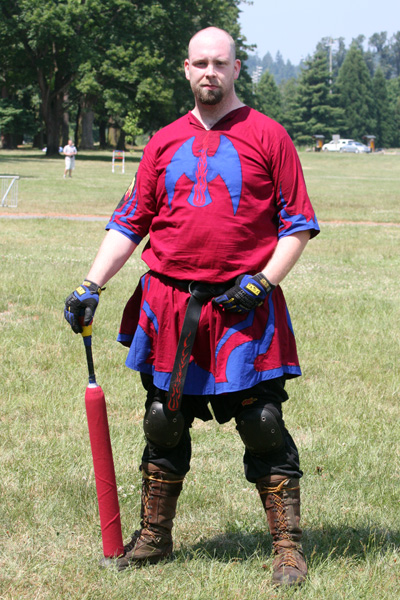 Biography
Calidran joined Amtgard in 1996 shortly after moving to Seattle, traveling to several events hosted by the now-defunct Kingdom of the Valley of the Silver Rains early that year. In late '96, Calidran and Tamisan D'Verdemire made a faltering attempt to start a land in the Seattle area, which lasted for almost 3 months before collapsing under poor attendance driven by the unforgiving weather of Seattle in winter.
Toward the end of '96 Calidran met Padraig McMannanan, a transplant from Bay Area Amtgard, who joined on to help re-start the new land when the weather improved. In February of 1997 the trio was successful and became the founding members of Inland Ocean, a new land then under the Kingdom of Dragonspine.
Inland Ocean flourished in the late '90's, and Calidran was a fixture in the land's monarchy for much of that time. In 1998 Calidran tried his hand as autocrat of Pacific Gathering, an Inland Ocean-hosted interkingdom event that drew roughly 125 attendees, the same year that Sir Derek Roth hosted Great Northwest War 2: The Apology.
After discussing the two events and deciding that they would continue to cannibalize each other's attendance, they were combined to become Pacific War (PacWar). PacWars 1 and 2 were hosted entirely by Calidran and Derek Roth, with no affiliated kingdom. After PacWar 2, the event was handed over to the Kingdom of Mystic Seas.
Calidran continued to have a high-profile presence in Northwest Amtgard, serving in Inland Ocean's monarchy 8 times in 6 years, founding the Eagle Talon fighting company, assisting with several Pacific War events, acting as a major proponent of arts & sciences in Inland Ocean and (for a while) being a fairly prolific garber, and running innumerable events within Inland Ocean.
In 2006 Calidran and Victis Morganti made a successful bid to bring Sword Knight Boot Camp to the Northwest, hosting the event at Millersylvania State Park. The event was a huge success, marred by a petty act of vandalism in the event's final hours. Due to the stress of the ensuing investigation (and its subsequent lack of resolution) coupled with public ridicule he received as a result and real-life stresses from outside Amtgard, Calidran retired from the game in 2007.
He has been inactive ever since.
Affiliated Groups
Eagle Talon Fighting Company (disbanded)
Calidran is squire to Sir Tyric
Notable Accomplishments
Founding member of Inland Ocean
Co-Founder of Pacific War (with Sir Derek Roth)
Founder of Eagle Talon fighting company
Voted "Most Corrupt Autocrat" by some jackass with a bottle of ketchup
---