Denah hap Tugruk
From AmtWiki
One way or another it'll get done.''
Preferred Pronouns
she/her, with masculine titles/addresses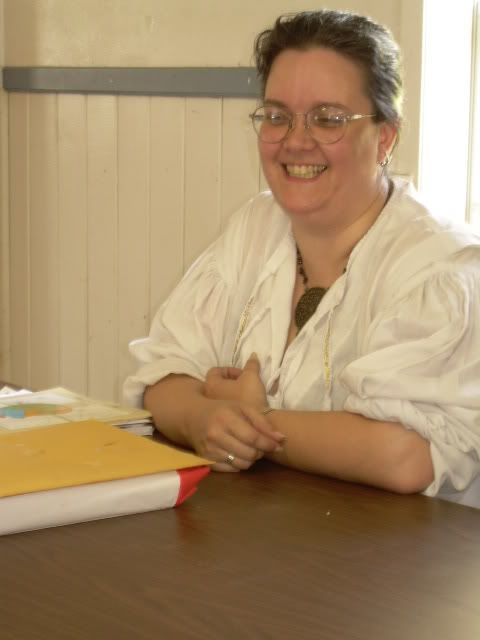 Biography
Known for being the sneaky little furball lurking in the corners with only those glittering eyes visible, Denah is considered by some to be a background character. To hear Dame Meika tell it however, "If I hear that wicked giggle, I know she's around here someplace."
Mundanely known as Cat Osborne of SmilodonArt.com, she began playing Amtgard in March of 1994 at Granite Spyre, before the Wetlands was incorporated. She has been a member of Granite Spire, Stormwall, Mushroom Shrine, and most recently Ironwood.
Denah is responsible for a large amount of the Art that you see in the Dor Un Avathar and its Supplements, and other projects created by Lucas Wyngarde. She was the first Wetlander to produce knight's belts in a multitude, even creating belts for outlanders. Knight's chains were also a special favorite for a while. Currently she's O'Banion's backup if he backlogs on orders. She has also designed numerous individual and group heraldry.
She has been a fixture with the ongoing process of developing Piratical Sabbatical into an inter-Kingdom event. Along with O'Banion, they have provided the gate favors every year, and maintain the swag box. Denah was instrumental in starting the raffle series and is the main rabble rouser in collecting items for the auction,including custom leather work, Captain's coats by Mara Ibormieth, leather and armorcrafting tools, and tons of other goodies.
On any given day that she is at an Event or park meet, Denah can be found behind the scenes helping where needed, or behind her camera, cataloging the fun. She is a ready hand at Tournament List Mistress or A&S List Mistress.
Denah's photography is available for general use in Amtgard specific projects. Her only request is that she be given a byline. Photos are available at www.printroom.com and www.photobucket.com under the user name 'denahhaptugruk', or use the links listed below.
Affiliated Groups
Belted Family
Notable Accomplishments
One of a very few candidates voted to a belt by unanimous decision of the Circle of Knights in the Wetlands.
Produced a Joker and Ace of Serpents for MHoG's Amtgard poker deck in 2010.
Titles
Positions Held
Masterhoods
Amtgard Photography
All Amtgard images are free use for Amtgard related projects. For paid publication or other use outside of Amtgard, contact Denah for permissions. All photography copyright Cathey Osborne/SmilodonArt.
More Information
---