Eclipse Fighting Company
From AmtWiki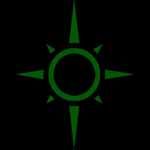 Eclipse is a fighting based company in Amtgard. The Fighting Company Eclipse was founded out of the House Eclipse in 1998. Formed in Iron Keep by 5 friends,under the direction of Baron Enoch, Eclipse has been the backbone of Iron Keep since the millennium. Since then the company strives to better its self and encourages its members to excel in any or all of the areas of Amtgard they take a liking to.
The sigil for Eclipse is a black field with a green occluded sun silhouette.
Tempered by wisdom and madness we compel dread into the hearts of Monarch and peasant alike, unrivaled by any in Amtgard. To those who say different, come to Iron Keep. We savor the challenge.
Members
"Friends Of Eclipse" Initiate Status