Evil Ryss
From AmtWiki
a.k.a Ryssama bin Laden
"Russ! Go to your room!" -Joy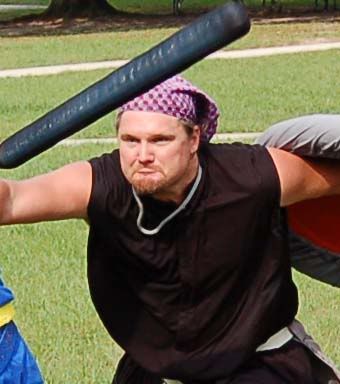 Biography
Evil Ryss originally encountered Amtgard in the Burning Lands, became a member of the Iron Mountains, moved to Neverwinter, moved back to the Iron Mountains... and is now currently residing in Neverwinter. Known Amtgard-wide as a outstanding armorer and garber, he was granted Knighthood of the Serpent at Rakis 2005. It is curious to the editor why it is that he makes all this fantastic stuff but his own garb sucks.
Has served two terms as Regent of the IMD in 2001 and 2003.
Affiliated Groups
Belted Family
Before he was welcomed into the peerage Evil Ryss was originally squired to Zodiac Darkjester who was squired to Arion Renquist who was squired to Zircon. He has had one squire in the past of whom has also joined the peerage, Joy of Neverwinter. Currently, he has two squires, Nettle of the Emerald Hills, and Avin of Neverwinter, he also has one Man at Arms, Eisley of Neverwinter.
Notable Accomplishments
He once made a mail vest that is so dense it stands up on its own. It is nearly an inch thick and is quite heavy. It has been named the "Tank Tread" on account of its appearance. Spearweasel has Rakis pictures of it.
Once told the Cornflake Joke for over 3 hours straight, and no one blinked an eye. So he kept right on going. Finally someone put it out of its misery.
Positions:
Masterhoods:
Additional Images
Evil Ryss, here with Joy, at Neverwinter Winter Coronation of 2006.
More Information
Personal Website
Company Website
---