Hannibal Finvarra
From AmtWiki
"Only 5 more months"- Hannibal
"!'ve got balls of steel"-Dougie
He got 99 problems but melanin ain't one.
Personal Symbol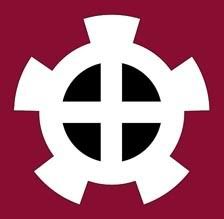 Biography
Hannibal started in Oct. 2003 in Wavehaven, DS (Santa Cruz, CA.), then moved to Falcon's Reach, DS (Sacramento, CA.). Hannibal has moved to IMD in the Iron Mountains, after staying in The Northern Holdfast for a sort time... where he is be part of an honest to goodness kingdom with some of the best stick in Amtgard. Lucky bastard.
Affiliated Groups
Member of the Golden Lions since 2007
IKOP Swing Cook since 2009

Belted Family
Dame Ailanthus belted Hannibal as a Man at Arms on May 25th 2006, on March 1st 2008 Hannibal became a squire under Ailanthus. On October 18th 2009, Hannibal became a squire to Sir Guy, who was Ailanthus's squire bro under Ivar. Hannibal has one WaA, Blue Wolf, she has been under him since August 29, 2009.
Family Tree
Sir Nevron Dreadstar-Sword 1988, Crown 1990, Serpent 1991, Flame 1994
Notable Accomplishments
Offices Held
Titles
Additional Images
Hannibal and Lireal, DBW V
Lireal, Hannibal, Ceowulf, Chour, DBW V
More Information
---