Maera
From AmtWiki
"*sigh* SwordCutSpearStabMaceSmash..."
Biography
Maera began in Amtgard in October, 1999, when her boffer-fighting group was accepted into the Kingdom of the Wetlands as the Shire of Crimson Moon. She was an artisan, a singer, and one of the "Moms" of Phoenix Tears.
Maera battled cancer valiantly for many years. In June of 2018 she passed away and Tal Dagore was left lesser for her loss.
Affiliated Groups
Head Wench (Blue) of the Warder Wenches
Maggie O'Conner's Mom (Not Alona's Mom)
Belted Family
Maera was made a Knight of the Serpent on March 23, 2013. She was never a squire, and so is the fount of her own line.
Notable Accomplishments
Founding Member, Crimson Moon
Founder, Cursed Prairie
Founder, Phoenix Tears
Founder, AEMA
Received title "The Nice" from Queen Mia, First Monarch of the Peasant Kingdom of Illinois (Long Live Queen Mia!)
Regent of the Shire-er-Barony-er-Duchy of Phoenix Tears
Master Healer
Master Dragon
Knight of the Serpent
Master Rose
Additional Images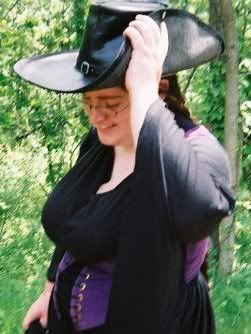 My favorite garb pic of me
More Information
---