Ristil
From AmtWiki
Baroness Squire Ristil the Innocent, Frost Lands , Kingdom of Polaris
"Just because you hang out with a fair number of former high school dorks who drool over anything female doesn't mean it's okay to just let it all hang out" -Ristil
"Amen" -Slyddur
"I just don't get the whole Arthon thing." -Ristil
"What? I'm God Damn Arthon!" -Arthon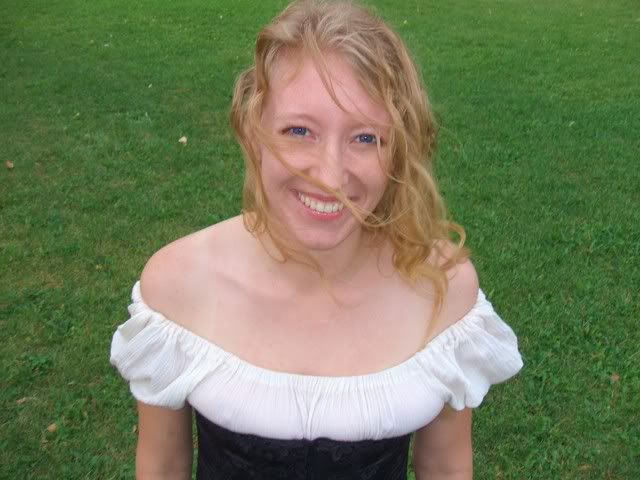 Biography
Ristil joined Crimson Circle in Green Bay, Wisconsin, in early 2007, and promptly went Amtgard-crazy. Dedicated reader of e-sam, and has been known to post once in awhile as well. Attended SKBC 2007 after only two months in Amtgard, which pretty much locked in the Amtgard bug.
She extensively denies that she is Canadian (even when her accent gives her away) and that her entry into Amtgard was simply a part of her orders to observe American society. She further denies that she has turned over fighting skills taught at SKBC to the Canadian government.
Will forever be remembered by some people (cough*Dalos and MHoG*cough) for not "getting" the whole Arthon worship thing, and not realizing that Arthon was even AT SKBC. Oops.

Wokou roast of Ristil, written by Kane:
Today the Wokouvian Roasting Society are here to honor Ristil the, um Innocent..
Is that right? Yeah? Ooook *wink*
We are here to embrace Ristil the Innocent of the Rising Winds.
A self-proclaimed "Crazy Bitch", Ristil is known throughout Amtgard and on E-Sam more for her humanitarian and volunteer work, than for her bitchyness. Luckily, most uf us never see Ristil the Crazy bitch. She remains playfull even when her humanitarian acts are questioned. I nightly remember that she once said... Ristil wrote: Don't be silly, I'm not a hooker. Hookers get paid... Twisted Evil
She is also a member of the House Margarita Chicks. As an HMS member, she strives to bring the fun to you at events. Whether the fun is for herself or for you... is really up to you. Ristil wrote: Party in my tent at Banner Wars Twisted Evil
Now, don't let me lead you down the wrong path. Ristil does not only visit parks and events a la Barbarella, she is also not afraid to get a little rough and rowdy with the rest of 'em...with little regard to personal safety or property. Ristil wrote: Forest ended up having to clean blood off my face, and almost had a nasty mess in his car
She has also appeared on television promoting the fighting aspects of Amtgard. When viewing the newscast, You can totally see her knee, and elbow in the back of the crowd...way in the back, but she was there, and that's what counts.
It is for these reasons why the Wokouvian Roasting Society today honours Ristil; the humanitarian, the volunteer, the Margarita Chick, the woman.
Ristil, in honor of what you do for everyone, and in honor of HMS; I give you a 10.
Affiliated Groups
Belted Family
Notable Accomplishments
Positions:
Scribe of Crimson Circle : October 2007 - April 2008
Frostlands Guildmaster of Reeves: June 2008 - August 2008
Regent of the Frostlands: August 2008 - February 2009
Champion of the Frostlands: February 2009 - August 2009
Duchess of the Frostlands: February 2010 - August 2010
Additional Information:
email: elizabethk_f@yahoo.com
Yahoo Messenger: elizabethk_f
AIM: corikaelyn
Additional images
---