Shidub
From AmtWiki
---
"I am immune to death...I don't die!"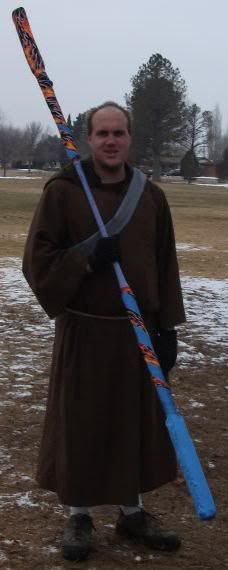 Shidub with Hikoori No Shujou, or Staff of Fire and Ice
Personal Heraldry
Biography
Shidub started this fantasy flight November 2009 after the local park did a demo at the anime club he regularly attended. He came out the next day and has been a part ever since. He started as a monk and found this to be his favourite class as he already had garb for it. His name has gone through a process. It started to be CrazzyWarrior as this was his typical online screen name. This not really being a name he shortened it to CW and then added in a taste of his love of Japanese and made it to be Shi Dubaru the Japanese pronunciation of the letters, finally shortening it a bit to be Shidub. Later on at a demo at Mesa Mall he looked up and found that it could be translated back to English as Death Dove and thus the name was born.
Not long after joining he was given a title of The Unholy Monk by Kar Silverfeather due to the fact that(while not in an actual battle) he would refuse to take his shots joking about being immune to death. This soon became a joke and Kar called him Shidub, The Unholy Monk. This was later modified later to be The Unholy One so it could be for him and changed to whichever class he was playing at the time although monk still remains his primary class.
Affiliated Groups
Having grown close to some of the members of the park he became renewed friends and was unofficially joined into one of the families. They were the Silverfeather family. Jokingly he started to use the last name of Ginhane, Japanese for Silverfeather, and after a few offers to officially join the family he decided to accept with the condition of keeping the Japanese to keep with his theme. Thus he officially became a part of the family.
There is still talks about the creation of a fighting company, Leviathans Wake, but this is still not officially created although they have the emblem for the company.
This is no longer true. Shidub was removed from the family after it all be fell apart due to issues between brothers which will be buried and not mentioned further, but remains to show the record that it was at one point.
Notable Accomplishments
Shidub has held each office without being in it officially(ie by vote/qual at a reign). Originally he became the GMR for the reign after having done a ROP and Corpora test at the park and having been the only one to actually qualify for it. Ararnon offered it to Shidub who refused it. Ararnon then continued to offer it tell he accepted to shut him up.
Also later on after a decline in the park from a new leadership the park went to be taken back by the people and Shidub became the pro-term Regent, after a couple weeks the Pro-term monarch dropped out due to personal reasons. As such Shidub became the new Pro-Pro-term monarch.
Somewhere in here he has also held the PM position although I cannot remember when exactly. Also was pro-term Champion after Syba had left to go to Alaska.
---