Skystone
From AmtWiki
a Barony of Desert Winds, located in Billings, Montana.
Heraldry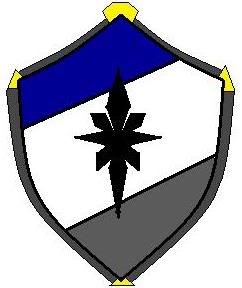 The Park Spring(ish) 2014
Current Events/Schedule
History
Founded in August of 2008, by Loup, Jurgen, Kyra Kadais, Talaisan, Tanis and Vladimir.
Unwittingly became a Demo at Saturday Live, a YMCA event in early September. Signed waivers doubled. So did regular attendance. A lesson to be shared: when life hands you a thousand kids, stake out the chunk of field behind the drama geek's tent.
First meeting called off on account of snow and bad roads : October 11, 2008. Yes, that's October. Early October.
November 15, 2008 - Assaulted a stockade of goblins. After a furious battle, the goblins all lay slain, save one who escaped to tell their Dark Lord of the attack...
November 22, 2008 - Mid-reign, the Dark lord (Phil) is beaten (by a dragon or was that immortal villagers *we did have the skull after all*). A weapons tourney is started (to finished at the park next week along with the A & S competition). The first court was held, and several awards were given out: 4 -1st order of the warriors, 1 -1st order of the rose, 1 -1st order of the jovious. Along with our first real big feast.
November 29, 2008 - Weapons tourney finished, Zarble declared Shire Champion.
January 10, 2009 - After a long break due to weather, vacations, babies and assorted other distractions, 8 manage to get back together. Ditching in the snow, and a discussion of sponsorship descends to the real question : IM or DW?
March 7, 2009 - Coronation. Visitors from both DW and IM were warmly welcomed and learned from by most of the regulars and some of the occasionals. It is the opinion of the writer that this event was awesome for its scale.
August 2009 - Officially brought in under the Kingdom of the Desert Winds at Dragon Blade War 2009
April 24, 2010 - Attendance continues to hit record highs, with 55 individuals attending for a regular park day.
June 1, 2014 - Becomes a Duchy at Salt Wars
September 16, 2017 - Demoted to Barony
Current Monarchy
Monarch: Lord Volkmar Griffinborne
Regent: Baronet Squire Boy Tal
Prime Minister: Duke Defender Squire Pyro Appareo
Champion: Lord Jurgen
Guildmaster of Reeves: Vacant
Office History
SHIRE MONARCH

AUG08-FEB09 - Loup deNoir
FEB09-JUN09 - Loup deNoir
JUN09-AUG09 - Tanis (Pro Tem)
AUG09-FEB10 - Scrye
FEB10-AUG10 - Scrye
FEB10-AUG10 - Druce

BARONY MONARCH

AUG10-FEB11 - Scrye
FEB11-AUG11 - Jurgen
AUG11-FEB12 - Pineapple
FEB12-AUG12 - Phaelious
AUG12-FEB13 - Scrye
FEB13-AUG13 - Boy Tal
AUG13-FEB14 - Pineapple
FEB14-AUG14 - Jurgen

DUCHY MONARCH

AUG14-FEB15 - Hawk
FEB15-AUG15 - Scrye
SHIRE REGENT

AUG08-FEB09 - Boy Tal
FEB09-JUN09 - Tanis
JUN09-AUG09 - Boy Tal (Pro Tem)
AUG09-FEB10 - Skittles
FEB10-AUG10 - Scrye

BARONY REGENT

AUG10-FEB11 - Druce
FEB11-AUG11 - Boy Tal
AUG11-FEB12 - Hawk
FEB12-AUG12 - Jurgen
AUG12-FEB13 - Hawk
FEB13-AUG13 - Scrye
AUG13-FEB14 - Howler
FEB14-AUG14 - Boy Tal

DUCHY REGENT

AUG14-FEB15 - WarBar
FEB15-AUG15 - Storm Wolfcaller
SHIRE CHAMPION

NOV08-FEB09 - Zarble
FEB09-AUG09 - Druce
AUG09-FEB10 - Druce
FEB10-AUG10 - Volk

BARONY CHAMPION

AUG10-FEB11 - Phaelious
FEB11-AUG11 - Hawk
AUG11-FEB12 - Boy Tal
FEB12-AUG12 - Boy Tal
AUG12-FEB13 - Fluffy/NONE
FEB13-AUG13 - Jurgen
AUG13-FEB14 - Warbar
FEB14-AUG14 - Volkmar

DUCHY CHAMPION

AUG14-FEB15 - Razgriz
FEB15-AUG15 - Volkmar
SHIRE PM

AUG08-NOV08 - Scrye
NOV08-MAY09 - Scrye
MAY09-AUG09 - Kere
AUG09-NOV09 - Sobek (Pro Tem)
NOV09-MAY10 - Boy Tal
MAY10-NOV10 - Boy Tal

BARONY PM

NOV10-MAY11 - Pineapple
MAY11-NOV11 - Scrye
NOV11-MAY12 - Scrye
MAY12-NOV12 - Pineapples
NOV12-MAY13 - Moonscar
MAY13-AUG13 - Mockingburd
AUG13-SEP13 - Edan
SEP13-NOV13 - Scrye
NOV13-MAY14 - Scrye

DUCHY PM

MAY14-NOV14 - Talis
NOV14-MAY15 - Morgue
Active People
Cade Wilk Kamien
Enigma the Lone Wolf
Hemdell Odinborn
Kyra Kadais/Scrye
Lynx
Matsumoto Takahiro
Mera Jean
Pineapple
Pyro Appareo
Razgriz
Talaisan, tsa Tetha Sarn
Wiggle McJiggles
Yohon
Arban the Red
Caveman
Dora the Destroyer
Eve Sunborn
Evva Morning
Gedeon Falkner
Grimm
Hellor Highwater
Jubosh
Lahab 'Shir
Lotis Whiteray
Microred
Nhol
Rodesko
Sparrow
Uliem,Brother of Red
Zatera
People
Atashanika/Bubbles
Hallbjorn Odinsson
Hawk
Hero
M&M
Skeeve
Skittles, the Goblin
Skubee
Umbrae Bellum
Vladimir Draconovich
Pages (The Young'uns)
Dario
Weebles!
Contacts and Directions
We meet at Pioneer Park every Saturday at Noon on the south central part of the park where the trees are in straight lines.
Pioneer park can be reached most easily by taking the West Billings exit, and following the City Center offshoot (That's Laurel Rd) over the overpass onto Montana Ave, then turning left onto 3rd St west. Follow 3rd St w north, past Billings Senior high School. The park is located directly behind the high school.
NOTICE : If the weather is bad, please call Talaisan before dragging yourself out to the park. We're looking for an alternate place to host, currently. Please also make sure to check : http://games.groups.yahoo.com/group/BillingsAmtgard/ for any other information
For directions or information, please contact Talaisan via E-mail at boy.tal27@yahoo.com or by phone at (406) 697-0367
---