Squeak!
From AmtWiki
"Stop calling me a TAMSter!"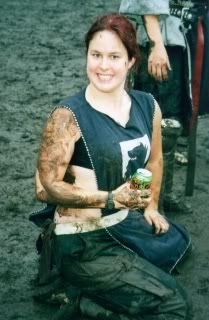 Biography
Despite stories running rampant about a wild youth and a violent history of brutalizing bullies with blazing branches, Squeak! is considered by many to be a pillar of the Amtgard community and has been referred to by such widely respected figures as Sir Michael Hammer of God as "Amtgard's Most Beloved." She is a tireless advocate of women fighting in Amtgard, a passionate lover of German beer, and the devoted wife of Saint.
Squeak! started Amtgard in the Emerald Hills where she held the office of Regent, running the kingdom before she was of age, and was the first female Champion of that kingdom. She later held the office of queen of the Emerald Hills. She has also played briefly in Celestial Kingdom. She was a member of the Shire of Iron Springs in the Principality of Winter's Edge, in the kingdom of Neverwinter for a number of years. Since then she has retired in Celestial Kingdom. Squeak was voted the best female fighter in amtgard at the amtgard polling institute.
Squeak! formerly ran the Amtgard Demo at Dragon*Con most years.
Squeak! is the nice one.
Affiliated Groups
She is a founding member of House Lionesse and is a member of the Golden City All-Stars (#14).
Belted Family
Notable Accomplishments
Dame Squeak! sai Yuk, also called Sir Squeak! sai Yuk, is a knight of the Crown and the Flame.

Crown - June 1996 by Czar Forest/Dame Selka
Flame - June 2000 by King Everlast/Sir Nevron
Helped found Eagleshire, while in the Texas Academy of Math and Science (TAMS).
Additional Images
More Information
---