Steel River
From AmtWiki
Steel River
A Duchy of the Kingdom of The Emerald Hills, located in Jacksonville, Arkansas
Heraldry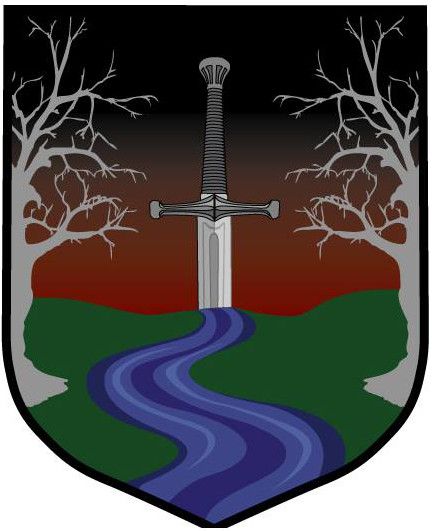 History
Elevated to Duchy at World Banner Wars XIX October of 2018
Formerly of the Principality of Tal Dagore, under the Kingdom of the Rising Winds.
Steel River was formed as a result of the split from Griffon's Lake in 2005.
The remaining forces of Griffon's Lake conducted a fierce and intensely emotional raid on Steel River not long after its secession. The Defenders of the newly formed Steel River were soundly defeated by their much more highly skilled raiders. Steel River continued on afterward as Griffon's Lake was dwindling away with each passing week. Eventually Griffon's Lake was abandoned, many of its older players moved away, and the remaining citizens found their home at Steel River.
Invaded the Skull Lands in 2005, where they met no opposition and took the ground by default. (Inter park games only were played) Invaded Soul's Crossing in 2008, where they held the foreign ground victorious. Invaded Storm Grove in 2009, claiming yet another conquest field. In 2011 Steel River raided Trail's End, Western Gate, and Soul's Crossing. They won at both TE and SC, but couldn't pull the win out at WG.
In April of 2012, signed a contract to join the Kingdom of The Emerald Hills. Promoted to Barony in September of 2017.
Directions
Steel River meets every Sunday at 1pm at Stonewall Park in Jacksonville, AR. http://www.cityofjacksonville.net/Facilities/Facility/Details/Stonewall-Park-27
Contact on the new Atlas: Luna
For information on other chapters in amtgard look here
---