TuK!
From AmtWiki
"All I said was I like bacon."
Bio
TuK! Uziel first found out about Amtgard while in high school. Solithan had come to school with a fireball and TuK! asked him what it was. Solithan naturally replied that "It's a fireball." and then proceeded to explain what Amtgard was, and how magic fit into it. TuK! scoffed at the time, but in 1998 he started to attend Eagleshire regularly. He proved himself to be an outstanding new addition to the orginization earning an Order of the Emerald. He has proven himself to be both an outstanding warrior, and a genuine asset to the game many times over. He is the founder of Gryphons Rage, the General of Eagleshire's forces, and the Lieutenant of Sable Pride. His will and determination are legendary; at Spring War IX he, alongside Thrann Von Doom, once slew an entire unit of his own soldiers because they refused to advance. He also though is legendary for his service to Amtgard. TuK! is and has always been a dedicated member of Amtgard, his park, and kingdom. He is currently squired to Sir Nevron as well as Sir Logan T. Black, and was formerly squired to Warlord Sir Zigful sai Yuk.
Known Facts
He is a great father. There's no question the man loves his kids.
One of Og's illegitimate children.
He still hasn't figured out how the Priest, Rabbi, and Minister joke goes.
Rumors
He once built a raft out of groundscored weapons, spit, and gum wrappers in order to float out of a flooded mid-reign.
Affiliated Groups
Belted Line

-

-
Notable Accomplishments
Regent of Eagleshire, EH, June 2009 - December 2009
Champion Protem Eagleshire, EH, June 2008 - December 2008
Duke of Eagleshire, EH, June 2005 - December 2006
Defender - Given by DJaj - by the Hand of King Martello - June 2004
Master Warrior - Given by Grand Inquisitor Sutra Bahuas - June 2007
Additional Images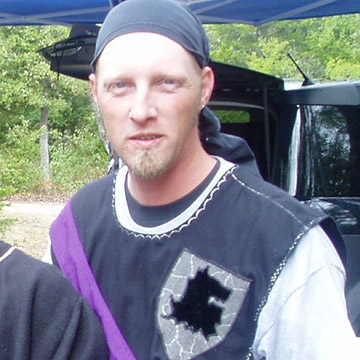 Tuk doing his usual job of providing security at Banner Wars XII.
More Info
---