William Stark
From AmtWiki
"If you NEED 7 points of armor, you aren't playing the game right" -said right before he was hit 7 times and shattered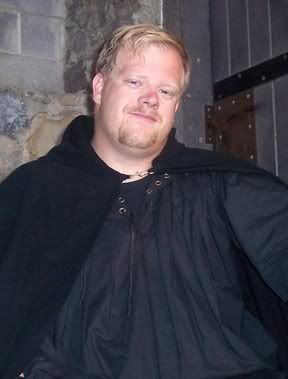 " I hated him as the bad guy in Mission Impossible 3" -The Great Runestone Lillywinks
" Blonde sheman disturb Nidalap" -Nidalap
" He reminds me of nice dream I had once" -Adolf Hitler
Biography
Was brought into Amtgard in 2004 at Dragon Blade Wars 2. After a couple of years and service he stepped up to several possitions in the Desert Rose and has always been a dependable member of the park.
As an experienced chainmail armorer, William has taught many on the art form as well as making a few Chain Shirts for auctions and raffles within the Kingdom of the Desert Winds.
William has recently headed the formation and nurturing of Thunder Mountain a fledgling shire in Winnemucca, Nevada. William is a great addition to the Desert Rose, being a member who is always happy to help, all you have to do is ask.
Marshal File #76599DM
Confirmation on Willaim Starks early years belonging to a religious cult. This runs contradictory to some noble ties he might possibly have. After an apparent disconnect from the cult, he moved east and was speculated to have been taken into bondage by a horrible troll or ogre lady. Little is known of what she actually was. Also found reports of possible male prostitution and other scrupulous dealing. After some time, Stark studied various armor crafters before opening up his own armory, specializing in various chain armors. It has been recently descovered that Willaim Stark has a son from an unknown female, possibly belonging to the "lower class". Further investigation is needed to confirm this. Possibly a 37 man job.
Currently Willaim Stark works for a transporation group and still keeps open his armory. Stark will remain filed in the "watched" category.
"Report Submitted by (Marshal's Name Withheld)
Affiliated Groups
Belted Family
Man at Arms to Sir Duke Master Rico Boner
Has taken Malik as his Page
Notable Accomplishments
Positions
Prime Minister - Barony of The Desert Rose, June 2005 - December 2005
GM - Healers - Duchy of the Desert Rose, March 2006 - August 2006
GM - Reeves - Duchy of the Desert Rose, August 2006 - March 2007
Duke - Duchy of the Desert Rose, March 2007 - August 2007
Prime Minister - Duchy of the Desert Rose, December 2007 - March 2008
Regent - Duchy of the Desert Rose, March 2008 - September 2008
Masterhoods
Master Healer given by Duke Vexx Furria (DotDR) December 2006
Additional Images
Link to image 1
Link to image 2
More Information
Personal Website
Company Website
---