Blazon
From AmtWiki
Definition
. (heraldry) A verbal or written description of a coat of arms.
. (heraldry) A formalized language for describing a coat of arms.
In heraldry and heraldic vexillology, a blazon is a formal description of, most often, a coat of arms or flag, which enables a person to construct or reconstruct the appropriate image. A coat of arms or flag is therefore not primarily defined by a picture, but rather by the wording of its blazon (though often flags are in modern usage additionally and more precisely defined using geometrical specifications). Blazon also refers to the specialized language in which a blazon is written, and, as a verb, to the act of writing such a description.
Other objects, such as badges, banners, and seals may be described in blazon.
Grammer of the Blazon
A blazon follows a rather rigid formula.
Every blazon of a coat of arms begins by describing the field (background). In a majority of cases this is a single tincture, e.g. Azure (blue).
Next the principal charges are named, with their tincture(s); e.g. a bend Or.
The principal charge is followed by any charges placed around or on it.
A composite shield is blazoned one panel at a time, proceeding by rows from chief (top) to base, and within each row from dexter (the right side of the bearer standing behind the shield) to sinister, i.e. from the viewer's left to the right.
A given coat-of-arms may be drawn in many different ways, all considered equivalent, just as the letter "A" may be printed in many different fonts while still being the same letter. For example, the shape of the shield is almost always immaterial.
Because heraldry developed at a time when English clerks wrote in French, many terms in English heraldry are of French origin, as is the practice of placing most adjectives after nouns rather than before.
Blazon Vs. Emblazon
A heraldic picture is called an emblazon. Emblazons are visual manifestations of heraldic insignia, typically displayed on shields or flags. Because emblazons are awkward to work with, heraldry uses a specialized jargon called blazon to describe shields and flags. Persons skilled in heraldry can discuss shields entirely in blazon, without ever drawing the emblazons. As a noun, the word "blazon" is also used to refer to the heraldic description of a shield or flag.
The great advantage of blazon over plain English is that blazon terms are defined more precisely than English ones. As a result, one can describe a shield more accurately and in fewer words with blazon than one can in plain English.
The distinction between blazon and emblazon is an important one, since there is not a one-to-one correspondence between blazons and emblazons. In many cases, a particular emblazon can be blazoned (=described in heraldic language) in more than one way. And no two heraldic artists will emblazon (=draw) a given blazon in exactly the same way. But for well-designed heraldry, the blazon captures the important features of the emblazon, and, given a blazon, a trained heraldic artist should be able to produce a reasonable facsimile of the original emblazon.
Blazon Terms
How to Blazon
Example Blazon
And example blazon and emblazon from the Canadian College of Arms, here represented are the arms of Sir George Martin.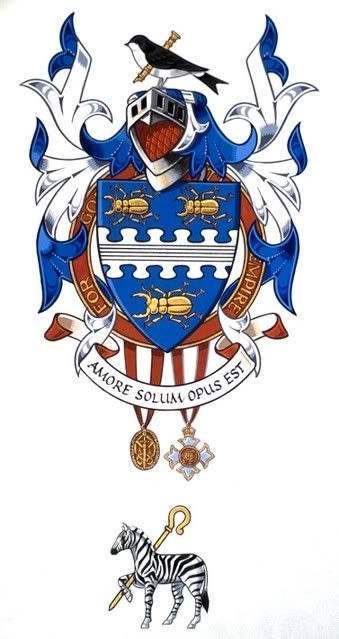 Among many other achievements, Sir George Martin was producer to the Beatles. The shield, crest and badge make various more or less explicit references to the group as well as to music and the recording industry in general.