Spring War 2005
From AmtWiki
Spring War 2005, Texas vs. the world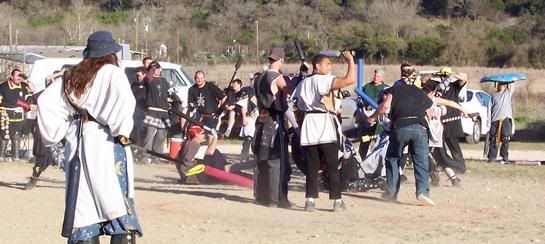 Crats
Originally Mesckalani but two days before the event his daughter, a world champion gymnast, broke her arm right before a competition. Replaced at the last minute by Ween who had been orchestrated the entire event in the first place. The committee of extras included Father Thomas, Mistress Wynd, Linden, Esoum, and many others.
Theme
The theme for this war was Texas vs. the world. It was believed that the whole of the amtgard world would come 'defend their honor'. This however was predictably untrue and the sides of the main battle horribly unbalanced.
Knightings
Dalos of the Golden City was knighted Knight of the Sword.
Trivia
This is the Spring War that appeared prominantly in the Swordplay documentry.
Photo Gallery
- http://new.photos.yahoo.com/aylin_karyn/album/576460762310145730#page1 -Video from SW 05